We are pleased to have sponsored the LACA Wales Regional Meeting, demonstrating how the LoCooker can both save schools money and help produce better food.  Please get in touch if you have any queries
---
Care Show Bournemouth
This year we demonstrated at the Care Show. With typical resident numbers of 30-60 people, the LoCooker is the perfect capacity for care homes. Having one in a home would improve the food quality without increasing the costs. 
---
Northern Bar and Restaurant show
 Another successful show, this time at the NRB show. Demonstrating how the LoCooker can save £1000's for restaurants and bars in Manchester. 
---
Restaurant Show 2013
Very successful 3 days at the Restaurant show. Thanks to everyone who visited! Please see our fb page for more pics
---
Readers' photos of grim hospital food
Surveys of patients have found that nearly half were not happy with meals. Hospital trusts might point out the extremely tight budgets they have to work with, but campaigners say more can be done.
Consumers increasingly concerned with sustainability of restaurants
– by Hannah Thompson
UK restaurant diners are becoming significantly more interested in the provenance and nutrition of their food, and are also more concerned about how restaurants dispose of waste, according to new research.
LoCooker, saving money and improving food quality
Even in today's environmentally-conscious age, chefs all over the world are wasting huge amounts of water, energy and money.
Is it because of a focus on better food quality? Is it because there is no alternative?
No – it is purely down to the techniques and equipment they use.
For the complete article see http://www.hospitalityandcateringnews.com/2013/07/locooker-saving-money-and-improving-food-quality/
---
LoCooker simply perfect for Sous Vide
The LoCooker is the worlds first true water oven. It is a flexible device that allows sous vide cooking and so much more. 
Sous Vide and Sous Vide cooking equipment is used in many top restaurants. The popularity of Sous Vide cooking has increased because it produces consistent results, and fantastic food. The food is vacuum sealed (Sous Vide) and cooked using water held at a precise temperature – the temperature the food cooks best at. To achieve this professional Sous Vide equipment is used.
Cambrian Mountain Lamb Royal Event
The LoCooker was used at the new season launch of Cambrian Welsh Lamb attended by HRH Prince Charles. The event was held at the Welsh Government Office in Victoria.
The LoCooker was used to bring out the quality and flavour of the lamb. The event was attended by many of London's top chefs, all of whom were impressed with the lamb, and the 
LoCooker.
The LoCooker was able to show its versatility during the event as the venue had almost no catering facilities – only a small room with sink and a few tables – somewhere where previously events like this would have been very difficult and complicated to host. Thanks to all involved for making the event such a success.
Welsh Business show in Cardiff City Stadium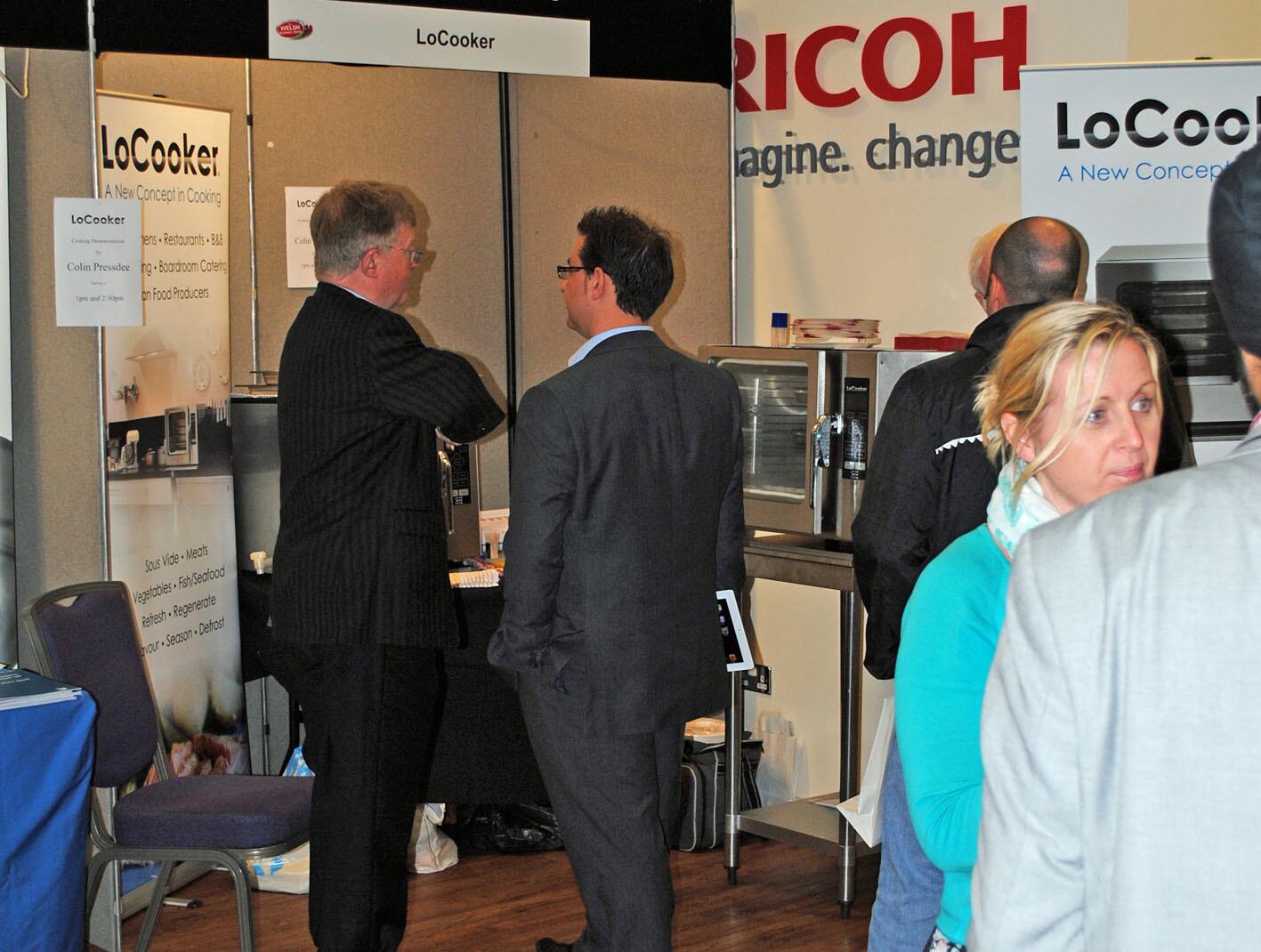 Another great demonstration at the Welsh Business show (http://www.thewelshbusinessshow.co.uk/). There was great interest in the LoCooker and it's low energy and water usage.
Please check Events for any future shows and demonstrations. 
---
29th May 2013
LoCooker, a totally new and distinct approach to cooking
H&C News meets with suppliers regularly to keep up to date with the latest product and service innovations, aiming to get the inside track on what companies offer to the market and how it is delivered.
This week, we met with Mr Alun Board, CEO of Clyne Energy who designed LoCooker to gain a better understanding of the product and business behind it. 
---
Demonstration in Parc y Scarlets rugby stadium, Llanelli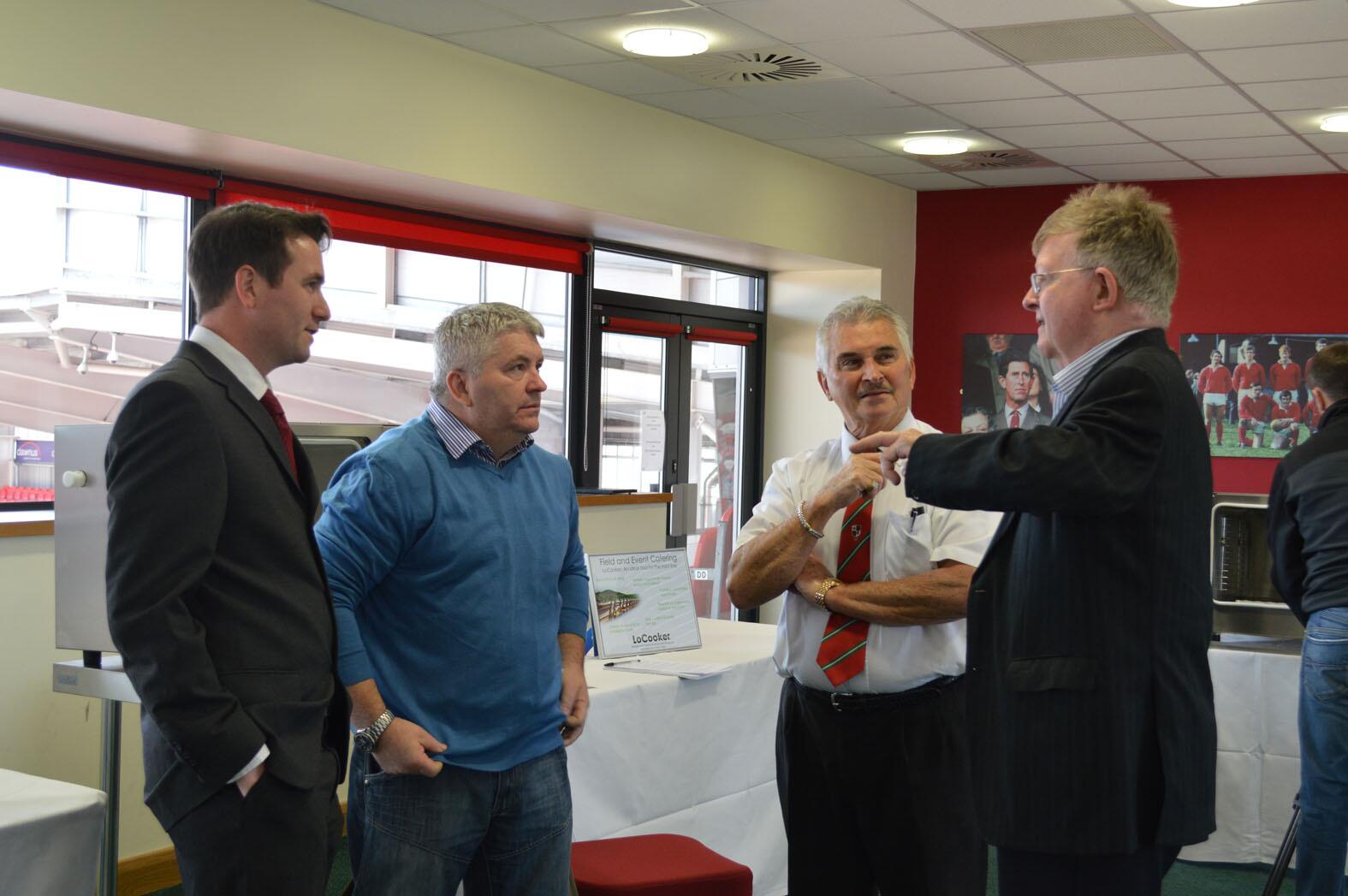 Thanks go to everyone who turned up at our big launch day at Parc y Scarlets stadium in Llanelli. Fresh food ranging from Sous Vide fish, Jersey Royals to asparagus was cooked throughout the day by Colin Pressdee to local food producers, caterers and restaurateurs.
Alun Board was also interviewed by the Tinopolis TV crew for the Heno programme on S4C (http://www.s4c.co.uk/clic/e_level2.shtml?programme_id=511153613). 
---
Llanelli cooker company receives Greenius award
THE Llanelli company behind a revolutionary cooking appliance is celebrating success in the Government's 'Greenius' (Green Genius) awards.
Clyne Energy Ltd is the firm behind the LoCooker, one of a number of cutting-edge British firms which picked up an award in the national competition launched by Deputy Prime Minister Nick Clegg.
For the complete article see http://www.thisissouthwales.co.uk/Llanelli-cooker-company-receives-Greenius-award/story-19034160-detail/story.html#axzz2Tp7CgDjX
---
9th May 2013
A new cooker has gone on trial in commercial kitchens with its creators claiming it can save more energy and water than using a conventional hob, water bath or steamer.
---
5th May 2013
Debut for a new cooking star at Parc y Scarlets, Llanelli – By Robert Lloyd
A revolutionary new, made-in-Wales, cooking appliance will be making its 'debut' at Parc y Scarlets rugby stadium in Llanelli.
For the complete article see http://sirgarblog.blogspot.co.uk/2013/05/debut-for-new-cooking-star-at-parc-y.html
---
23rd April 2013
Thanks to all who came to our Chef Day at Chefs Connection at New Covent Garden Market. Those who attended were able to sample food produced by the LoCooker from fresh fish delivered from Brixham by Channel Fisheries to new season Welsh lamb. Thanks to Danny Murphy, our host, and to Arnaud Stevens and Killian Lynch for demonstrating the LoCooker with a fabulous dish of fresh bass cooked in seawater with sea vegetables. Thanks finally to Ferns Coffee, Drinks Lover and Amici di Bacco  for helping to make the event such a success. 
---
Thanks to Colin Pressdee and all those involved in making the IFE (International Food Exhibition) at Excel such a successful show for the LoCooker. We are honoured that the LoCooker was chosen to cook tasting samples at the stand promoting the best of welsh food. The LoCooker was selected for its versatility and the quality of the food it produces. Food ranging from crabs to potatoes to Welsh lamb were cooked for producers including Channel Fisheries, Selwyns, Hybu Cig Cymru and Halen Mon. 
---
St David's Day event in Central London
We held a successful tasting demo for chefs to celebrate St David's day in Victoria. The flexibility of the LoCooker was demonstrated – it was used to cook Lamb, Pheasant, Ham, Sea Bass, Leeks, Asparagus, Kale, several different types of potatoes, Rhubarb, Laverbread (of course!). To arrange a demonstration of the LoCooker please contact us on info@LoCooker.com. 
---
"Clyne Energy has had its technology recognised by successfully achieving a Greenius Award. This is a new national competition launched by the Deputy Prime Minister to drive forward the UK's green growth agenda. It is jointly funded by Department of Energy and Climate Change (DECC), Department for Environment, Food and Rural Affairs (Defra) and Department for Business, Innovation and Skills (BIS).  It is being run by Technology Strategy Board of behalf of these Departments. 
The contest relates to innovative solutions in food, water and energy sustainability. 
Each of these is central to the business of the Company"
---
Collin Pressdee and Brian Webb held a successful event in Tyddyn Llan. They demonstrated the full flexibility of the LoCooker to visiting chefs; preparing tasters of slow cooked belly pork and seasonal vegetables from local producers. 
---